EDIT MAIN
Distance Learning will continue until the end of the school year.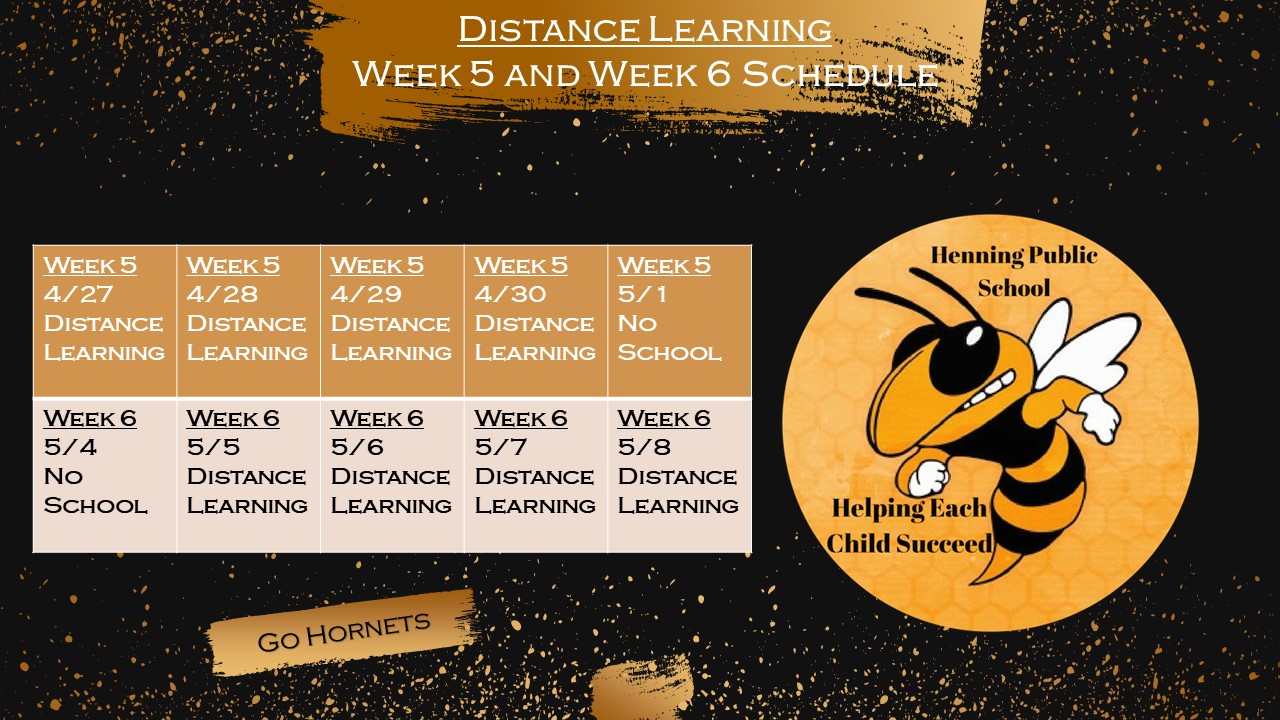 Henning School District's Distance Learning Plan
It is our school district's goal to guide parents through this most challenging time. Together we will ensure that your child(ren) are provided with opportunities and support to continue their educational journey.
Parent Distance Learning Letter (Click to view)
K-12 Henning Distance Learning Assignments (Click to view)
6-12 Grade students will be expected to join Google Meet sessions at 11:00 am and 1:00 pm.
Overview of Plan:
Click on this link to see an overview of the District's Distance Learning Plan.
Vision: Ensure that every student in the Henning School District receives an equitable education and has equal access to learning and instruction during the COVID-19 pandemic.
Communication:

Urgent & Important Communications will come as needed
Expect communication to come from the District on Tuesday & Friday.
Expect communication to come from teachers weekly in preparation for the next week's distance learning assignments.
Key Information:
Daily Assignments can be found for each grade level and/or department by accessing the platform designated on the District's Distance Learning Students Assignments. Teachers will post their weekly assignments with directions by 10:00 am each Monday.
Materials & Delivery: Print materials and other non-digital items will be delivered every Monday morning to students/family home address or to a designated address per conversation with a parent.
Contact Information: Teacher contact information will be available on their teacher link. Office personnel will be available from 7:30 am until 4:00 pm, Monday thru Friday, to answer any general questions and/or provide assistance.
District Web Site -- https://www.henning.k12.mn.us/o/henning-public-school/news -- will house the majority of information to best assist parents with keeping up-to-date on general school district messages.