EDIT MAIN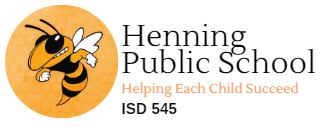 Welcome, New Families! We are so excited that you are interested in enrolling at Henning Public Schools. We truly believe selecting us as the primary educator for your son or daughter is one of the best choices you will ever make for him or her.
If you haven't already, we encourage you to learn more about our district and the many outstanding programs we have to offer. Our website is by far the best tool to gain knowledge about our district. We encourage you to read a few success stories, check out our program offerings, and explore all that Henning has to offer.
If you would like even more information, we would love to have you schedule a tour of the school your child(ren) might attend. Just call the school's main office (218-583-2927) to schedule a tour. The school principal Mr. Williams will be more than happy to provide a tour of the school and sit down with you to answer any additional questions you may have.
When you're ready, all of the documents and information you need to start the enrollment process are below. You can mail, fax or email your completed packet to our district office.
Mail: 500 School Ave, Henning, MN, 56551
Fax: 218-583-2827
Email: sblaeser@henning.k12.mn.us (preferred method)